*This post may contain affiliate links. As an Amazon Associate we earn from qualifying purchases.
[amazon link="B00LT5GANG" title="Graco MySize 65 Convertible Car Seat" /]
[amazon box="B00LT5GANG"]
Reviews and Essential Information
Graco has an incredibly diverse line of car seats and strollers. Whether you are looking for premium-quality, safety ratings, or comfort, these car seats can make you and your child feel luxurious in your daily commute. They also offer smaller, bargain-priced car seats that offer the safety you need, without any unnecessary extras. Few people look at the extremes, and most parents want an option that can give them some of the comfort of a pricey model, while staying within a reasonable budget.
The Grace MySize 65 provides a great car seat at a mid-range cost. This complete guide will give you all the information you need to determine if the MySize 65 is right for you. You'll find all the specifications for this car seat, including pros and cons, and be able to compare it to some other highly rated competitors.
What is Graco MySize 65?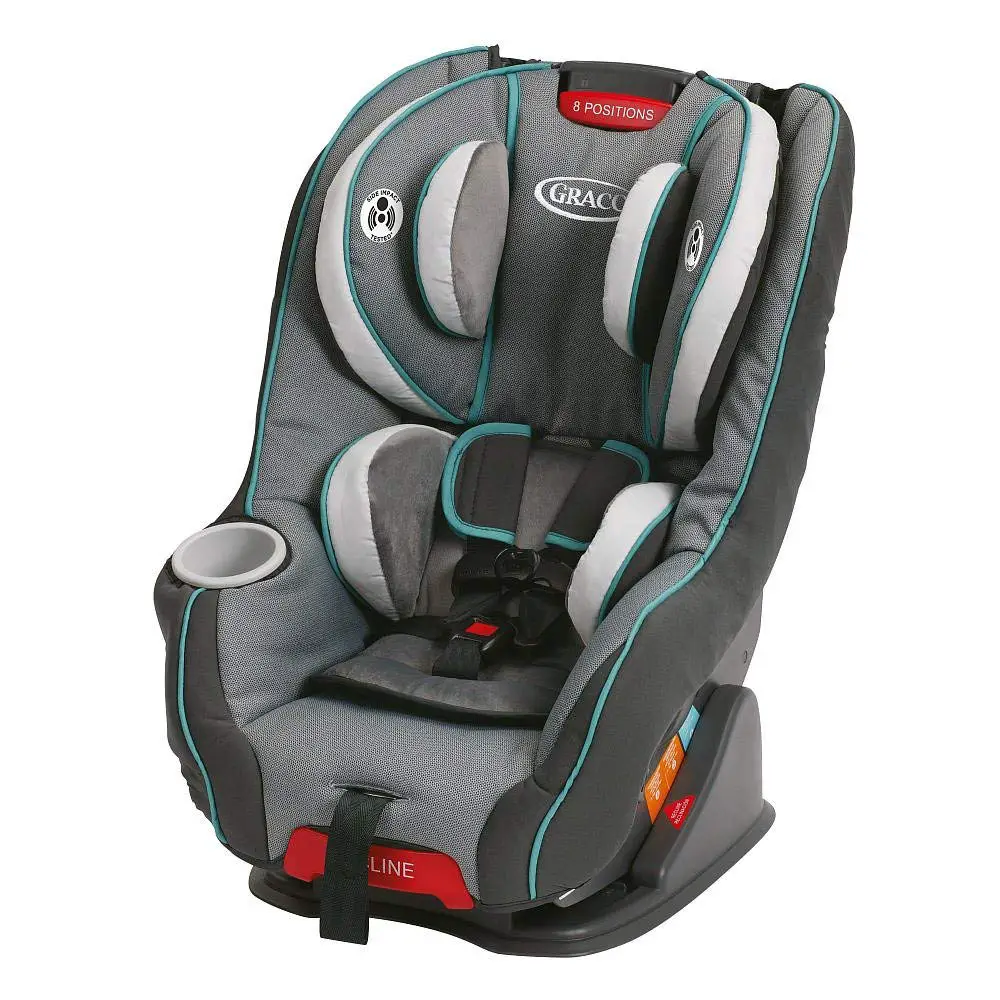 The Graco MySize 65 is a convertible car seat by Graco, a leading American company that specializes in baby car seats, toys, clothes, and accessories. As a convertible car seat, it's designed to be used in both rear-facing and front-facing modes. Your newborn can safely ride in this comfortable car seat, and it can support your child up to 65 pounds, and up to 49 inches tall.
The car seat has an easy to use latch feature, which makes the harness much more convenient. It's simple to accurately install in a firm position. It includes a 5-point harness, and is safe for side impacts. In terms of comfort, the MySize 65 can recline in three positions, and comes with a cup holder for your child's drinks and snacks. The cover is both washable and removable, and comes in several color options.
Why Choose a Convertible Car Seat?
There are several types of car seats, and each one is designed for a different size of child or infant. Infant car seats, obviously, are for the smallest infants. Generally between 4 and 22 pounds, these seats are created especially for your child's first year or two of life. A convertible car seat is a much more popular choice. While it only is rated for infants as little as 5 pounds, it has a much larger weight range. These flexible seats are generally rated for up to 55 or 65 pounds. They can have a larger range because of the dual-purpose design. You can install the car seat rear-facing, or front-facing. A rear-facing car seat is the safest option, and is made for younger infants. The weight range of rear-facing is usually 5 to 35 pounds, but each car seat is different.
After that, you must put your child in a forward-facing position. It's strongly recommended by the American Academy of Pediatricians to keep your child rear-facing, until they are at least two years old. Your car seat will still be effective in this orientation, but will be for older children, usually up to 65 pounds. After that, you'll need a booster seat. These seats are able to accommodate your child until they are tall enough to sit in a seat on their own. There are a few different varieties of car seats, including all-in-one, or combination seats. These versatile seats are typically more expensive, but can be used from birth all the way up to 110 or 120 pounds.
Is the Graco MySize 65 Safe?
Yes. Safety is the most important feature of any car seat. Cup holders, recliners, and comfortable chairs are unimportant, compared to keeping your child protected in the event of an accident. Thankfully, the Graco MySize 65 is rated highly, and meets or exceeds all safety standards. It has additional impact rated foam on the sides. This is specifically designed to absorb energy during a dangerous side collision, and will help protect your child. In addition, the 5-point harness system is easy to adjust, which is critical to proper placement. Once they are correctly placed, your child will be safely supported in this seat.
Installation and Warranty Information
However, even the most well-protected seat can be dangerous if improperly installed. There are many things that can go wrong when installing a car seat, so read your manual very carefully before using this seat. If in doubt, contact a child passenger security official and have them inspect your seat to ensure proper installation. Not only does the seat have to be installed correctly, you also need to make sure the straps are in the correct position and the correct fit. Too loose, and your child will be in danger of an impact. Too tight, and your child will be uncomfortable. While the MySize 65 is easy to adjust, it still is possible to get them in the incorrect position. Make sure you check the warranty.
The Graco MySize 65 is only certified for seven years after the manufacturing date. After that, Graco recommends you stop using this car seat, and immediately find a new one. Once everything is correctly adjusted, you can breathe easier knowing your child is comfortable and protected.
Specifications
Pricing
Car seats can be as inexpensive as $35, and as expensive as $400. Each seat has a wide range of features, ranging from critical safety measures, to less necessary cup holders and one-click connections. Determine your price range, and consider the additional features you would like. Even the most inexpensive car seat still passes the minimum safety standards, but many seats go above and beyond these benchmarks.
Depending on your budget, premium car seats can also give your child an extremely comfortable experience. Long road trips are far more stressful when your infant is unhappy and crying. Higher-priced car seats also tend to make your life easier. They are easy to adjust, clean, and install correctly. All of these together can literally save hours of your time, particularly if you frequently change vehicles for your car seat.
The Graco MySize 65 falls slightly less expensive than the middle of the price range. It isn't so cheap that it lacks comfort and quality, but it is far less expensive than some of the luxurious models on the market.
How it Compares
GRACO MYSIZE 65 CONVERTIBLE CAR SEAT, REESE
[amazon box="B00LT5GANG"]
EVENFLO SYMPHONY DLX ALL-IN-ONE CONVERTIBLE CAR SEAT, MODESTO
[amazon box="B00O8RRMAW"]
SAFETY 1ST GROW AND GO 3-IN-1 CONVERTIBLE CAR SEAT, HARVEST MOON
[amazon box="B015KFDKB0″]
COSCO MIGHTY FIT 65 DX CONVERTIBLE CAR SEAT, HEATHER ONYX GRAY
[amazon box="B01ETUBQZ4″]
Pros and Cons
Each car seat has a variety of features to consider before making a purchase. Whether you are looking for the highest safety, convenience, comfort or a blend of all three, there are car seats available to fit every need. Determining the best car seat can be difficult, so take some time to think about which features you want in your new car seat. To help with this decision, here are some pros and cons for the Graco MySize 65.
PROS
Cons
Our Final Thoughts
Each of these car seats has many pros and cons that make the decision a difficult one. There isn't a perfect car seat, and each one has a few features to focus on. While it may be difficult deciding on the perfect car seat for your child, this guide should make you feel confident when comparing the pros, cons and specifics of the Graco MySize 65. With proper installation and use, your child will be safe and secure in this well-rounded car seat.