*This post may contain affiliate links. As an Amazon Associate we earn from qualifying purchases.
When you become a parent, your child's car seat is one of the most important pieces of baby gear you'll buy. It's right up there with your little one's crib, his or her stroller, and that bat-shaped nightlight that plays soothing, lullaby versions of Black Sabbath's greatest hits.
While an Ozzy Osbourne-approved nightlight is cool and all, your car seat is the one piece of equipment that the hospital will make sure you have before you bring your son or daughter home. Your child will need a car seat until he or she is big enough to safely use an adult seatbelt. It's an investment. While all car seats must meet federal safety standards, not all car seats are created equal. The Graco Size4Me 65 is one of several moderately priced models in the crowded convertible car seat market. Use this guide to decide if it's the right ride for your family's newest road tripper.
Growing Up Graco
[amazon box="B00H8MSEWY"]
Buckle up, parents: Your tiny, adorable newborn is going to grow, and he or she is going to grow quickly. (If this is news to you, teething and toilet training are going to blow your mind.) Today, he or she needs a car seat. Tomorrow, he or she is going to need the keys to your car. The Graco Size4Me 65 is a convertible car seat, which means it's designed to grow with your child. It can be installed to serve as a rear-facing car seat and then reconfigured to work as a forward-facing car seat as well.
No matter which direction your little one's facing, the rest of the Graco Size4Me 65 convertible car seat adapts to suit his or her travel needs, both comfort and safety-wise. That cup holder, for example, might seem like an extraneous piece of plastic when you're three weeks out from delivery, but once your tiny backseat driver develops a staggering addiction to water with exactly one-and-a-half glugs of apple juice in it, you'll be happy you have it. You'll be stoked about your convertible seat's easily adjustable safety harness, head rest, and body supports, too.
Product Specifications and Features
Nice Fit for Newborns
It goes without saying that your newborn baby is the most precious cargo you'll ever load into your car, truck, or sensible minivan that your spouse finally talked you into. The Graco Size4Me 65 is designed to safely accommodate the smallest of infants. The bottom of its rear-facing weight range is 4 pounds, a minimum that's less than many other car seat models, particularly those that are convertible. Additionally, the infant padding inserts and low harness height slots ensure a snug fit for even the tiniest traveler.
Size Matters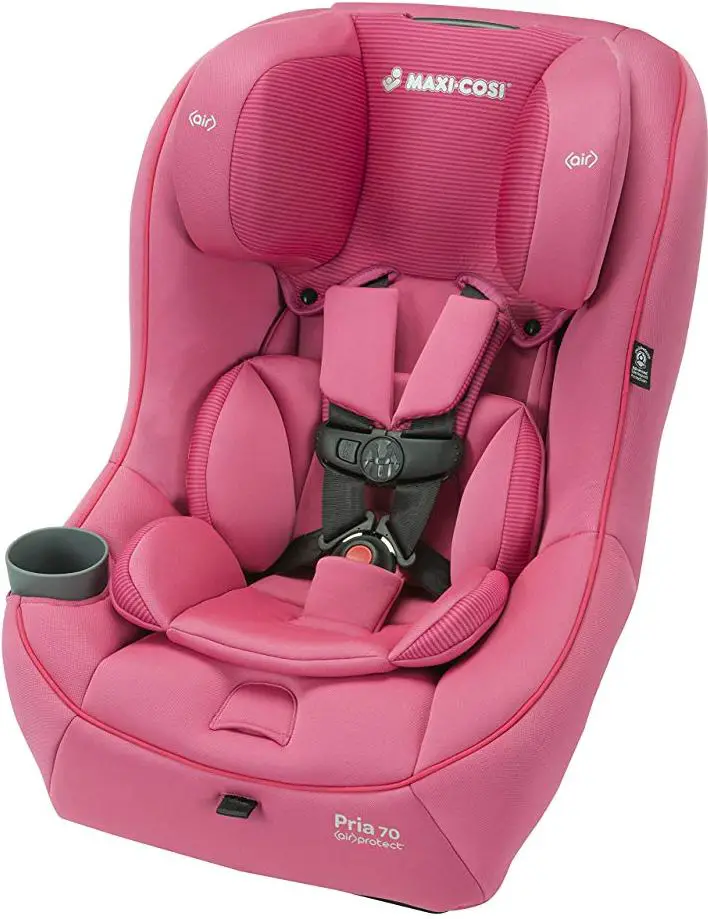 The Graco Size4Me 65 can keep your child safe from its first day on Earth to its first day of kindergarten. Initially, your child will require a rear-facing car seat; in fact, the American Academy of Pediatrics suggests that all children ride in rear-facing car seats until the age of 2. Meeting that guideline is a cinch thanks to the Graco Size4Me 65's rear-facing weight range that starts at 4 pounds and maxes out at 40 pounds — a weight limit that means, for most kids, they'll be able to ride facing the rear until the age of 4. The longer your son or daughter rides backwards, the safer he or she will be.
The car seat's maximum height for rear-facing travel is one inch shorter than the headrest adjustment button. It's worth noting that this refers to when your child is seated, not his or her overall height. In other words, if your child has a short torso, he or she will be able to safely face the rear for longer, making your kid the envy of his or her safety-conscious peers with long torsos.
Once your little one surpasses the weight or height limit for rear-facing travel, the Graco Size4Me 65 converts into a forward-facing car seat that can accommodate kids up to 65 pounds — in other words, the average 9-year-old. Given the car seat's roomy weight limit, most children will outgrow the Graco Size4Me 65 based on height first; it's forward-facing height limit is 49 inches.
Easy-to-Handle Harness
Often, adjusting a car seat's harness to fit your growing child involves a tedious process of uninstalling and reinstalling the entire unit or rethreading the car seat straps with the keen eye and steady hand of an expert seamstress. The Graco Size4Me 65's Simply Safe Adjust harness eliminates these frustrations. Instead of fighting with straps and slots, you press a bright-red button to slide the harness unit up or down, depending on the fit your child requires for safe, comfortable travel. A lever on the front of the car seat also lets you easily adjust the car seat's incline for maximum kiddie contentment. This ease of adaptation is extra-awesome if you have more than one child who may use this car seat, a situation that is all too common for many grandparents and caregivers who want a dedicated car seat for their vehicle, too.
LATCH is a Snap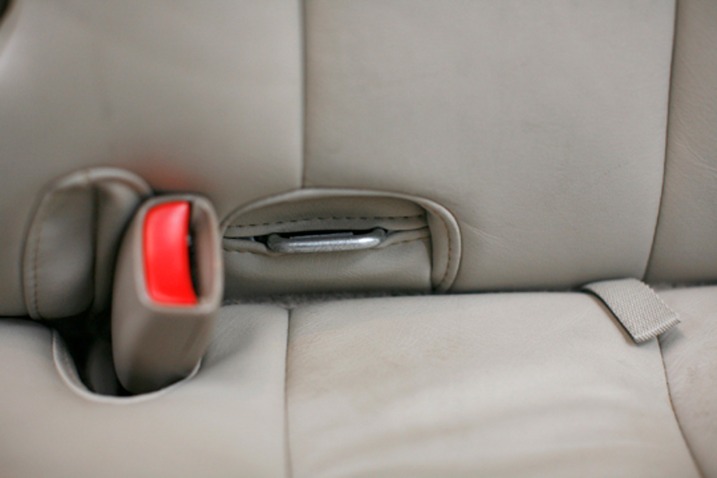 All car seats made since 2002 feature the LATCH system. LATCH stands for Lower Anchors and Tethers for Children, and it's a system that's designed to make car seat installation quick and relatively painless. A standard car seat features built-in hooks and straps that connect with anchors and tethers in your vehicle. This set-up replaces the adult seat belt, and all cars are required to have at least two sets of lower LATCH anchors and top tether anchors in the back seat.
The Graco Size4Me 65 simplifies this installation process even further. Instead of employing hooks, the Size4Me 65 car seat uses push-button connectors that snap onto your automobile's lower anchors; an audible click lets you know that the parts have been joined properly. An onboard level also aids in making sure the car seat is reclined to the proper angle for safe rear-facing use.
Specifications Summary
​Rear-facing weight rating: 4 – 40 pounds
Rear-facing height limit: 1 inch beneath headrest button
​Forward-facing weight rating: 22 – 65 pounds
check​Forward-facing height limit: 49 inches
check

​Simply Safe Adjust five-point, no-thread, front-adjust harness

check​Harness height range: 7 – 17.5 inches
check

​In Right LATCH system with easy-to-read level indicator

check

​EPS energy-absorbing foam, including head wings

check

​Machine washable seat pads and RapidRemove cover

check

​Three reclining positions
​Infant insert

​Cup holder

​Unit dimensions: 30 (height) × 19 (width) inches
check​Base weight: 15 pounds
check​Seat weight: 19 pounds
check

​Engineered and crash-tested to meet or exceed U.S. safety standard FMVSS 213

check

​FAA-approved for aircraft use

check​Product lifespan: 7 years
check

​Limited 1-year warranty
​Pricing
The Graco Size4Me 65 has a manufacturer standard retail price of $$$. This model is carried by a variety of retailers, including:
It's worth noting that the Graco Size4Me 65 is extremely similar, or downright identical, to three other models of Graco convertible car seat:
​MySize 65

​Fit4Me 65

​Head Wise 65
Here's the skinny: The Size4Me 65 and the MySize 65 are the exact same car seat, aside from color options and which retailers carry which model. The Fit4Me 65 is also the same car seat, but it's only available at Walmart. The Head Wise 65 is the same car seat with the addition of Graco Safety Surround head protection, a slightly different infant insert, and different fabric options.
Sizing Up the Competition
The Graco Size4Me 65 convertible car seat sports many of the same features as its closest competitors in the same price range. Similar convertible car seat models from Safety 1st, Evenflo, and Britax all feature no-thread harnesses and span similar weight and height ranges for both rear- and forward-facing riders.
The Graco Size4Me 65 doesn't feature all the same perks that its peers do, however. The less expensive Evenflo Advanced Triumph LX boasts a Tension Right side knob that lets parents and caregivers tighten the child's harness with one hand. This is a super-convenient feature that almost makes up for Triumph LX's somewhat frustrating installation. The Britax Essentials Allegiance also has a push-button LATCH system and a removable, machine-washable cover, but its harness allows for 10 different positions, or double that of the Graco Size4Me 65. It doesn't have a cup holder, though; score one for Graco.
In this price range, the most feature-filled model in our comparison is the Safety 1st Grow and Go 3-in1, which also offers a two-year limited warranty. In addition to being configurable as both a rear-facing and forward-facing car seat, it also converts into a booster seat with a weight limit of 100 pounds. As a car seat, it's designed to give adult passengers in the front up to seven more inches of leg room. Its QuickFit harness lets you adjust both the harness and headrest simultaneously, and it features sanity-saving harness holders that keep the harness straps out of your way when you're loading your child into the car. Almost all children go through a car seat-loathing phase that includes kicking, screaming, and squirming; not having to extract a wayward strap from beneath your little one's rage-fueled rear end is a wonderful bonus that the Graco Size4Me 65 lacks. The Safety 1st Grow and Go 3-in-1 also includes two integrated cup holders, which seems a bit unnecessary unless your toddler is fond of mixing up a batch of virgin piña coladas on the way to Grandma's house.
Overall, the Graco Size4Me 65 may not include all the bells and whistles that its stiffest competition at does at this price point, but it does include the features most important for convertible car seats: namely, a no-thread harness, a push-button LATCH system, and generous weight and height ranges without being an extended-use model.
The Graco Size4Me 65 also earns points over many of its peers due to brand recognition and reliability. In the increasingly crowded baby gear marketplace, Graco has been an industry leader for more than 60 years, a fact that may convey an added sense of confidence to many parents.
Safety 1st Grow and Go 3-in-1 Convertible Car Seat
[amazon box="B015KFDJAM"]
| | ​Rating​ |
| --- | --- |
| Ease of Use: | |
| ​Assembly Time: | |
| ​Build Quality: | |
| ​Warranty: | |
Britax Essentials Allegiance Convertible Car Seat
[amazon box="B0781V9C3K"]
| | ​Rating​ |
| --- | --- |
| Ease of Use: | |
| ​Assembly Time: | |
| ​Build Quality: | |
| ​Warranty: | |
Evenflo Advanced Triumph LX Convertible Car Seat
[amazon box="B00O8RRR7U"]
| | ​Rating​ |
| --- | --- |
| Ease of Use: | |
| ​Assembly Time: | |
| ​Build Quality: | |
| ​Warranty: | |
​Pros and Cons
PROS
​No-rethread harness

​Push-button LATCH connections

​Shell is slimmer than other models

​Good for smaller infants
Cons
​Lower rear-facing weight maximum than pricier models

​Rear-facing leg room isn't great
​The Graco Size4Me 65 offers many of the features flaunted by pricier models at a more affordable price. The no-rethread harness takes the hassle out of adjusting the car seat with every growth spurt. Its push-button LATCH connections simplify installation. The unit itself is fairly slim, which means it doesn't take up a lot of room in your backseat — especially important if you need to travel with multiple car seats to accommodate your growing brood. At 4 pounds, it also has one of the lowest rear-facing weight minimums around, making it a great choice for smaller newborns.
​Our complaints about the Graco Size4Me 65 are minor. First, its rear-facing weight limit isn't as high as some held by other models, but those other models are more expensive. Comparing it strictly to similarly price convertible car seats, its weight limit is standard for a seat that isn't intended for extended use. Second, the rear-facing leg room isn't great; think economy class airplane. Then again, your tot can always put his or her legs up on the seat or cross them.
Final Verdict
Graco has been an industry leader in car seats, strollers, and other bigtime baby staples for over 60 years. They make several solid, reliable car seats, and the Graco Size4Me 65 is no exception. It's a fantastic budget buy if you're in the market for a convertible car seat that won't bust your budget. While it doesn't have every single feature that its competitors in the $150 to $200 convertible car seat price range do, it has the majority of them — and it has all of the ones that matter the most, including push-button LATCH connections, a no-rethread harness, and a generous weight and height range for your developing child.
Rating: