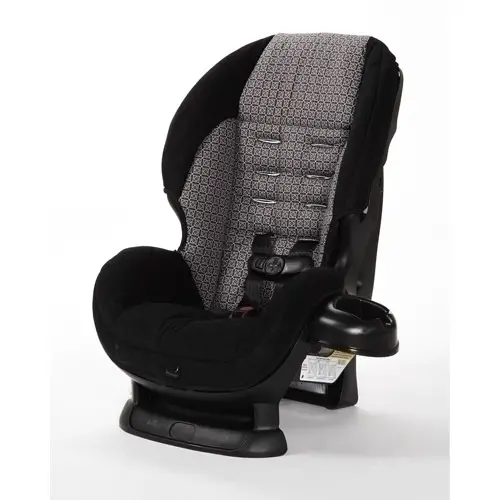 Ask parents of young children how they feel about the car seat they use, and you may hear the words "necessary evil" in the description. Responsible parents know that the car seat is mandatory every time a child travels in a vehicle, but these seats are often heavy, cumbersome and hard to fasten into the car. Parents often worry about whether they have installed the seat correctly, and data from law enforcement seems to show that as often as not, they're installed incorrectly. Once little ones become independently mobile, they often find a way to get themselves out of the car seat, posing another danger.
Adding to these concerns are the varying state laws regarding which seat is right for a child's age and weight. Parents can feel completely overwhelmed by the purchase and upkeep of a car seat as the market offers a seemingly endless number of choices. If you're looking for an option for your child's next car seat, we hope this article can give you a good place to start. The Cosco Scenera car seat is a reliable choice that avoids some of the common issues with these devices.
Cosco Scenera Car Seat
The Cosco Scenera Next is a car seat that accommodates children from 5 to 40 pounds in both rear-facing and forward-facing installations. The seat fits children from 19 to 40 inches in the rear-facing position and from 29 to 43 inches when facing forward. The Scenera features a five-point harness that is easy to adjust from the front. You can configure it to any of five harness heights and three buckle locations to fit your growing child. Many parents find that, because of its flexibility, the Cosco Scenera is a good seat to bridge the gap between the infant seat and the booster seat.
Specifications
Easy to Use
The Cosco Scenera Next is a lightweight option with a compact design so that you can fit three across the back seat of most family vehicles. This is a huge bonus if you have to move the car seat from vehicle to vehicle often or if you need to haul the seat through a busy airport. Speaking of flying, the seat has certification for use during flight, so your baby has a familiar place to sit. That may buy you and your traveling companions a little more peace and quiet during your journey. When you arrive at your destination, the seat transitions easily into your rental car.
Safety
The Scenera Next doesn't give up any ground on safety to accomplish this user-friendly design, however. The headrest features Side Impact Protection to keep the head and neck safer in the event of an accident. A LATCH system works for the entire life of the unit, and the seat meets all federal safety requirements of the National Highway Traffic Safety Administration (NHTSA).
Easy to Keep Clean
Owners rave about how easy it is to keep the Scenera Next clean. The car seat pad is removable and safe in the washing machine and the dryer. The cup holder can be run through the dishwasher to remove the sticky mess that inevitably builds up inside when small children use it.
Multiple Styles Available
Just because you're a parent doesn't mean you have to give up style in your vehicle. The Scenera Next comes in many styles and colors, so you choose the one that coordinates best with your car's interior. If you have more than one child, you can pick a different pattern for each little one, so there's no fussing over which one is whose.
Assembled in America
Finally, we love that Cosco assembles the Scenera Next in Columbus, Indiana, so it's made by Americans for American families. The product website features several videos of how the company involved their employees and their family members in the development and product launch of the Scenera. Do take note, though, that some of the parts are imported.
​​​Pricing
You can find the Cosco Scenera Next at most mass-market retailers like Walmart, starting at $38. If you're looking to buy online, check out Amazon or the website of any of the brick-and-mortar stores that carry the Scenera. Amazon pricing starts at around $46.62
How It Compares
Sale
Cosco Scenera NEXT Car Seat OTTO
Rear-facing 5-40 lbs (19" to 40")
5 harness heights and 3 buckle locations allow for the best fit for growing children
Forward-facing 22-40 lbs (29" to 43") and at least 2 years old
Ease of Use:
Product reviews shared by owners on multiple sites talk about how easy this seat is to use because it's so light and the harness is easy to adjust with many positions to choose from. Many parents choose this seat as a travel-only tool, as an alternative to disengaging and hauling around their regular day-to-day car seat. This is an especially appealing plan if your usual car seat is on the expensive side. The Scenera is one of the least expensive choices on the market, so if it gets a little banged and beat up around the edges while it's going through the luggage carousel, you won't stress too much.
​Assembly Time:
​Reviews on the LATCH system and the installation of the seat into the car are positive for the most part, but some consumers did feel that the Scenera was difficult to attach in their particular vehicles. A few others commented that the seat moved around more than they liked, even after it was installed according to the directions.
Build Quality:
The features of the seat that make it easy to clean are big positives to owners. They love how easy everything is to wash, especially the cup holder. They also like that the seat is TSA-friendly so that you can breeze through the security checkpoints at the airport. While its assembly takes place in the United States, some components do not originate from the US.
​Warranty:
​The Scenera comes with a 1-year warranty against defects in materials and workmanship. You do have to have the receipt showing the date of purchase, but filing a claim is easy via an online form at the Cosco Kids website or by phone.
Sale
Evenflo Tribute LX Convertible Car Seat, Saturn
Side impact tested, Meets or exceeds all applicable federal safety standards and Evenflo's side impact test standard
Designed and tested for structural integrity at energy levels approximately 2X the Federal crash test standard. Rear...
Multiple shoulder harness positions for better fit and longer use. Age at least two years of age
Ease of Use:
​Like the Cosco Scenera, one of the most lauded features of the Evenflo is its light weight and the compact design. Having said that, some users report that it does not fit the standards for cabin travel on a smaller aircraft, like an Airbus. Two different crotch buckle positions are a unique feature of the Tribute that can make it easier to make your little one comfortable. However, it does give up a little ground to the Cosco Scenera because it offers four harness positions as opposed to five.
​Assembly Time:
Consumers estimate that it will take parents about 15 minutes to properly install the Tribute, which is a good rating as convertible seats go.
Build Quality:
​Evenflo's testing goes beyond what is required by the government, which gives parents a great deal of peace of mind. As an added bonus, the Evenflo has an attached pillow for baby's head, and the mat is machine washable. Like the Cosco, the Tribute LX assembly happens in the United States with some imported parts. Product reviews occasionally mention that the padding is a bit thin, and the cup holder gets poor ratings.
​Warranty:
​Evenflo only provides a warranty on its products for the first 90 days of ownership by the original owner, and the warranty is actually void if more than one child uses the seat. These restrictions are the biggest drawback to this seat, and they give the Cosco a definite advantage.
Eddie Bauer XRS 65 Convertible Car Seat, Regan
2-IN-1 CONVERTIBLE CAR SEAT - With two modes of use, this seat grows with your child. Use it rear-facing from 5 to 40...
SIDE IMPACT PROTECTION - This convertible car seat includes side impact protection so that you can rest easy knowing...
ADJUSTS AS CHILD GROWS - The XRS 65 Convertible Car Seat includes an infant insert and a 5-point harness with up-front...
Ease of Use:
​Most buyers find the Eddie Bauer seat fits well, even in a smaller vehicle. Of the seats reviewed, this one gets the most positive comments on the padding and level of comfort. Besides a few complaints of the belts twisting, the reviews on overall user-friendliness are very positive. Many users cited the weight limit of 65 pounds as the reason they purchased this seat.
​Assembly Time:
​The seat has an average number of complaints about difficulty engaging the LATCH system. The very detailed owner's manual is more than 50 pages long, which is very thorough but also a little overwhelming.
Build Quality:
​At just over 14 pounds, this is the heaviest of the three seats we reviewed. However, some consumers felt that the extra weight gave them greater confidence that the seat could hold up in an accident. The Eddie Bauer seat does have built-in side impact protection and a five-point harness that most consumers say is easy to operate. One point that does get a lot of criticism is the manufacturer's recommendation to use rolled up towels to stabilize the seat.
​Warranty:
​The Eddie Bauer seat's warranty is provided by Dorel Juvenile Group, Inc. You get the same one year of coverage as the Cosco. The manual includes detailed instructions and multiple ways to file a claim via mail, website and phone, going so far as to list the hours that service representatives are available.
Pros and Cons
​Conclusion
When you're expecting a new baby, car seat shopping is unlikely to excite you like other parts of the experience. As your child gets older, the different options, laws and features make it a bewildering part of parenting. But parents know how important a car seat is to their child's health and safety, so they want to make the right choice. We hope our reviews of these seats have helped you narrow the field.
You get a surprising number of options in the under $100 price category, and many of them have features you would only expect from a more expensive seat. The Cosco Scenera Next is a solid choice in this range of products. While there are others with very similar features and of a similar quality, you'll be pleased with how easy this seat is to manage, especially if you travel with it regularly.