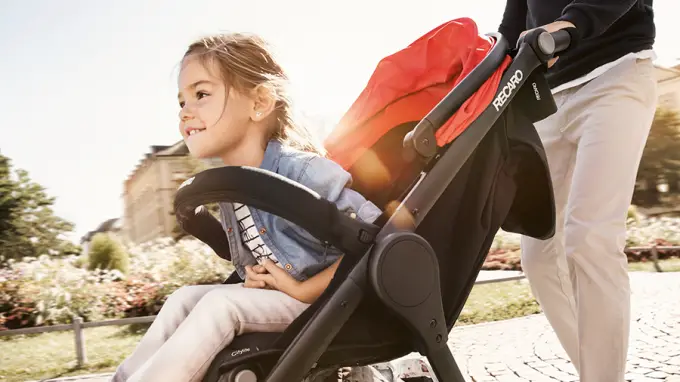 Every time you get behind the wheel of your vehicle, you hopefully wear your seatbelt. Doing so makes good sense, as seatbelts save countless lives every year. The same is true for car seats. When you take your child or children for a ride, you must be sure they are safely restrained in a car seat until they can effectively use the restraints in your vehicle.
Whether you have been a parent for years or are about to have your first child, you may be in the market for a new car seat. Unfortunately, not every car seat on the market is a good purchase. Knowing the difference between a quality, strong seat and an unreliable one can be tough, though. That's where we come in. In this article, we review one of the most popular car seats available today, the RECARO Performance RIDE convertible car seat. Read on to see whether we think the Performance RIDE is a good choice for securing your most vulnerable passengers.
What Is The RECARO Performance RIDE?
The RECARO Performance RIDE is a child car seat that has been on the market for more than five years. The company advertises the seat as utilizing race-inspired side-impact protection. The Performance RIDE is designed to accommodate children weighing between five and 65 pounds and up to 49-inches tall.
As a convertible car seat, the Performance RIDE is usable either in front-facing or rear-facing configuration. For rear-facing applications, the seat is rated for children weighing between five and 40 pounds. For heavier children who weigh up to 65 pounds, the forward-facing configuration is appropriate. You can, however, use the forward-facing setup for children who weigh as few as 20 pounds. Doing so, however, is problematic. Continue reading to learn about the alarming test performance of the seat in forward-facing applications.
RECARO Performance RIDE Specifications
While the RECARO Performance RIDE has many innovative features, it is important to understand the specifications of this car set. The follow are the measurements, ratings and configurations of the Performance RIDE:
RECARO Performance RIDE Features
The RECARO Performance RIDE has dozens of unique features. The seat's race-inspired high-impact safety features meet or exceed safety requirements established by the National Highway Traffic Safety Administration. These features include full-body side-impact protection. The Performance RIDE also has enhanced side wings to protect a child's neck, face and body during collisions. Additionally, the Performance RIDE's PUR-foam headrest helps prevent the sort of neck movement than can cause serious injury, such as whiplash. Reinforced side parts are also intended to cushion the child's hips, pelvis, torso and thighs.
As a careful parent, you don't only want your child to be safe during collisions. You want your young passenger to be comfortable on both long hauls and short trips. RECARO has taken steps to create a comfortable car seat. The Performance RIDE uses memory foam that contours to your child's body. It also has a removable, cleanable cushion for extra comfort.
Your child likely won't overheat when riding in the Performance RIDE. The RECARO proprietary Dual Air Flow Comfort System and CoolMesh fabric allow the Performance RIDE to breathe. Likewise, built-in vents help air circulate around your child when he or she is strapped securely into the seat.
No parent wants to spend hours securing a child into a car seat. Fortunately, with the RECARO Performance RIDE, you quickly strap your child in place. The seat uses a five-point harness system. This system automatically adjusts to your child's height with just the turn of a knob on the back of the seat. An included cup holder attaches to either the left or ride side of the Performance RIDE. Because it is removable, you can easily clean the cupholder.
Some other important features of the RECARO Performance RIDE are the following:
Installing the RECARO Performance RIDE in either its forward- or rear-facing application is also simple. The seat uses a built-in latching system that easily clips to your vehicle's anchor points. The company's True-Lock technology allows you to install the seat with just one hand. Meanwhile, tucking pockets allow you to secure straps when the car seat is outside your vehicle. As such, you can easily take the RECARO Performance RIDE with you for use inside your home or at another location.
RECARO Performance RIDE Pricing
The RECARO Performance RIDE has a comparatively expensive price. If you want to purchase this seat, expect to pay around $$$. While some car seats are more expensive, most have a lower price tag. You may purchase the Performance RIDE online or at some brick-and-mortar retailers.
Sale
Diono 2019 Radian 3RXT All-in-One Convertible Car Seat
JOY OF THE JOURNEY: From birth, keep your little one rear-facing longer to 40 lbs., and as they grow to 100 lbs. (10...
THREES NOT A CROWD: For safety that fits 3 across the Radian 3RXT packs all our innovative safety features into a sleek...
LOVINGLY ENGINEERED: The Radian 3RXT is built with automotive-strength steel, engineered into a dual spine, which...
How The RECARO Performance RIDE Compares To Other Convertible Car Seats
To make an informed purchase, you should know about some of RECARO's competitors. Here are two alternatives to the RECARO Performance RIDE that we think give it a run for its money.
Britax Advocate ClickTight Convertible Car Seat, Circa
Easy installation: Patented Click Tight makes car seat installation as simple as buckling a seat belt
No rethreading, ever: Quick adjust 14 position harness with Click & Safe Snug Indicator gives a click sound when the...
Adjust accurately: Harness indicator gives an audible click when you've pulled to the proper tightness
With its Advocate ClickTight convertible car seat, Britax offers a comfortable, safe alternative to the RECARO Performance RIDE. The seat meets or exceeds safety standards. It is also easy to install and remove.
Chicco NextFit Convertible Car Seat, Matrix
Recline Sure 9-position leveling system provides the most recline options of any convertible seat for an accurate fit in...
Two Ride Right bubble levels indicate correct seat angle in both rear-facing and forward-facing modes
Exclusive Super Cinch LATCH Tightener uses force-multiplying technology to help achieve a tight and secure fit with a...
The Chicco NextFit convertible car seat is less stylish than the RECARO Performance RIDE. Still, the safety features, comfortable design and installation process of this seat make it an affordable alternative to the RECARO convertible car seat.
RECARO Performance RIDE Pros and Cons
There is no question that the RECARO Performance RIDE excels in many areas. Unfortunately, the seat also has a few drawbacks, including a significant one. Here are some of the pros and cons of this convertible car seat.
RECARO designed its Performance RIDE convertible car seat with your child's comfort in mind. The seat features an ergonomic design that we love. This includes a reclining feature for when the seat is installed in its rear-facing application. The seat also offers an adjustable headrest that makes long-trips comfortable for even the fussiest child. We particularly like the cooling technology that runs throughout this seat. With vents, mesh fabric and other enhancements, the seat helps to avoid overheating. Whether your child is sitting in the seat inside a vehicle or in a building, he or she is virtually certain to feel cozy and comfortable.
Modern parents are busier than ever. As such, they don't have extra time to spend moving car seats from vehicle to vehicle. If you want to cut down on installation time, you will likely appreciate the RECARO Performance RIDE. In fact, you can probably install this seat in either its forward- or rear-facing configuration with just one hand. The seat quickly and simply hooks to your car's existing anchor points and belts. When you are ready to remove the seat, the process is equally a breeze. Further, strapping your child into the Performance RIDE doesn't take much time. The intuitive five-point harness system is adjustable. It also features a quick-lock hitch that is simple to negotiate.
While your child's safety is your top concern, you don't want a car seat to take away from the clean lines and cool styling of your vehicle. The RECARO Performance RIDE doesn't. On the contrary, this seat has a sophisticated look. The modern colors and overall design of this convertible car seat make it blend seamlessly with your vehicle's interior. Since the seat is easy to clean, you don't have to worry about riding with a filthy car seat. Instead, simply wipe down the fabric parts with a damp cloth. Or, remove the cushion and cupholders for a deep cleaning. Either way, you know your child's car seat looks as good as the rest of your vehicle.
While the RECARO Performance RIDE meets or exceeds U.S. and international safety requirements, it didn't fare as well in independent testing. In fact, a test by Consumer Reports of four Performance RIDE seats revealed dangerous breaks in the seat's rear anchoring system when the Performance RIDE is installed in a forward-facing setup.
At $$$, the RECARO Performance RIDE is an expensive car seat. Certainly, it is impossible to put a price on child safety. Still, you can find a decent, safe seat for considerably less.
Why We Can't Recommend The RECARO Performance Ride
The RECARO Performance RIDE combines comfort and design to create a popular convertible car seat. The seat meets or exceeds standards from the National Highway Traffic Safety Administration. To prove the seat is safe, RECARO has performed a variety of tests. During these government-mandated tests, the seat performed fine.
In more extreme testing conducted by the consumer publication, Consumer Reports, however, the RECARO Performance RIDE didn't do as well. In fact, there are some safety concerns you should know about. As a convertible child seat, the Performance RIDE should function equally well in forward-facing or rear-facing applications. That wasn't the case in one series of tests, however.
During the test, when facing forward, the securing hardware behind the seat broke. This caused the rear harness to pull through the car seat's back. The resulting slack allowed the test dummy to push forward in the RECARO seat. Because children must remain firmly in place during a collision, this safety issue should concern any parent. That is, if the child does not remain securely seated, his or her head, neck, brain and torso may hit other parts of your vehicle. This could cause serious injury or death.
While there is no real-world evidence of injury, the fact that an extreme test revealed significant potential for injury is alarming. Remember, though, this issue only occurred when the Performance RIDE was facing forward. For rear-facing applications, the anchor points did not break.
When presented with results of the testing, RECARO said, "The RECARO Performance RIDE convertible car seat has saved the lives of many children involved in a car crash and has never experienced a field failure after being in the marketplace over five years. RECARO tests to meet and exceed all National Highway Traffic Safety Administration (NHTSA) crash requirements…." The company continued, "The research by Consumer Reports was conducted with a crash test at 40% more energy at its peak than current NHTSA standards. We want to reassure our consumers that we take all aspects of a child's safety seriously and will examine these findings closely."
Final Thoughts On The RECARO Performance Ride
Any car seat is better than no car seat at all. As such, if you already own a RECARO Performance RIDE, we recommend continuing to use it in its forward-facing configuration only until you can purchase a different car seat. If you don't own one, though, we don't advise you to purchase one. The shocking results of the testing by Consumer Reports are simply too much for us to see past.
For rear-facing applications, the RECARO Performance RIDE is fine. As such, you can use this seat until your child weighs up to 40 pounds. If you do, be sure always to install it in your vehicle in the rear-facing configuration. Once your child outgrows this setup, plan to invest in a different car seat. Because of the extensive outside testing, doing anything else is irresponsible and dangerous.