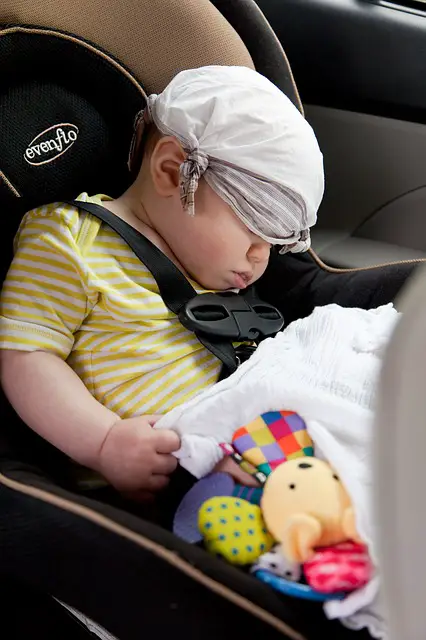 With the demise of the popular and celebrity-lauded Orbit Baby brand, many parents have wondered where to turn for a quality baby travel system. We've got suggestions for you that will not only provide all the features you've come to love and expect, but they will also be a little easier on your bank account than the Orbit Baby was.
Why purchase a baby travel system to begin with? A baby travel system combines an infant car seat with a stroller, so you get two necessities in one. It's convenient when your baby falls asleep in the car seat. You don't have to wake your child up to put him or her in the stroller. Instead, you remove the car seat from the car and snap it into the stroller base, and you're ready to go.
With so many car seats, strollers and travel systems on the market, it can be difficult to choose the one that is best for you and your family. You have a vast array of options from the most basic models to expensive Scandinavian imports. Keep reading to learn more about your travel system options. We've done all the research for you.
Travel System Frequently Asked Questions
1. When should I buy a travel system?
2. What's the age range for a travel system?
3. Where can I buy a travel system?
4. How does a travel system work?
5. What are the advantages of a travel system?
​How We Reviewed
To come up with this list of travel systems, we read consumer comments, reviews and complaints. We studied industry reports and reviews, and we compared safety ratings. We also considered manufacturer reputation and history of providing high-quality baby equipment. After compiling this data, we created a list of the most desirable features and chose the top performing travel systems to share with you.
Travel System Price Range
When it comes to baby equipment, prices are all over the map from bargain basement to crazy expensive boutique models. You can spend as little as $100 for a basic travel system at a big box store. At the other end is a Norwegian system that will set you back $1,300. For our list below, we've stayed in the middle of the road to provide you with a lot of bang for your buck.
The Best Six Travel Systems to Replace the Orbit Baby
The Graco brand has been around for generations and has gained a reputation for quality. This travel system continues that trend. This affordable model is packed with features that make it a good choice for budget-minded parents who want the bells and whistles. The features include:
The car seat portion of this travel system is top-rated for safety. It easily connects to the stroller base. The stroller seat can recline for your child's comfort. The front swivel wheels provide great maneuverability for a smooth ride and are lockable with one-touch brakes. Overall, this travel system is an excellent buy at this price point.
​There's a lot to love about the Chicco Bravo Trio. One of its best features is that it is self-standing when in the folded position. This is incredibly convenient if you've just popped into a restaurant or a café and need to prop the stroller in a corner. Another nice perk is that the car seat canopy and stroller canopy overlap, creating a cozy little cocoon for your sleeping baby. Other features include:
​One drawback to the Chicco Bravo Trio is that it drives a little rough over bumpy surfaces. It can be a struggle to maneuver on trails and other more rugged terrains. It's still a good buy for the money, and the top-rated car seat is a strong safety feature.
​Britax has been making some of the safest car seats on the road for years, so it's no surprise that its travel system would be high quality as well. The stroller on this system has a three-wheel design that makes it super light and nimble when you're out and about. The all-wheel suspension for a smooth ride is a nice touch, too. The features include:
​A nice advantage of the Britax B-Agile is the comfortable seat. It offers great support to your child and can fully recline for a good nap. The adjustable head pad is a faux-suede material that is incredibly soft. The stroller base is also compatible with a wide range of other car seat brands with the universal car seat adapter that you can purchase separately.
​For the athletic parent or any parent who just wants to get out there and move, there are jogging travel systems. The main draw of these strollers is an agile, three-wheel base that allows for excellent maneuvering with tight turns. The Baby Trend Expedition Jogger has bicycle wheels that enable it to run smoothly over grass, gravel, and other uneven terrains. The features include:
​This travel system gets high marks for being a true jogging stroller. The canopy is large and covers the baby well, and the bicycle tires provide a very smooth ride. Please note that your baby has to be able to sit up in the larger child seat of the stroller for you to jog. You can't jog using the snapped-in car seat.
​You will appreciate the sun protection your baby gets with this travel system. The Evenflo Vive with Embrace provides a full sun visor to keep your baby safe from any harmful rays. The Embrace car seat is one of the safest you can buy with a crash-test performance that exceeds the federal safety standards. The features include:
​This travel system is a true bargain. It's not a fancy as some of the others and the materials are a little thinner and cheaper. However, it has passed all the safety ratings and tests with flying colors, so it is a safe choice for your child. If you need affordability and safety combined, this is the travel system for you.
​This is a particularly roomy stroller with a seat that measures 13" wide by 22" tall and 19" long, a nice touch for larger or older toddlers. The biggest concern with parents is that the canopy does not have a peek-a-boo window for you to see your child while the canopy is open. The features include:
​For the stylish parents out there, the Maxi-Cosi Kaia and Mico NXT come in a fashion-forward black or red. The Maxi-Cosa Kaia is an umbrella-type stroller, meaning it is very lightweight and maneuverable. It comes with an adapter to attach the Mico NXT car seat. You can purchase the stroller and car seat together, or separately. You should check prices and shop around to find which is the better deal.
​The Best Travel System to Replace Orbit Baby
The options for travel systems for your baby are nearly endless. You can choose to go high-tech and fancy, or more basic and down-to-earth. If you want value for money without all the flash and sparkle of a European brand, the Graco Stylus Click Connect is our recommendation for the best buy. It really packs in the features. It has plenty of storage for you and your baby. It has a one-hand fold and is a good middle weight, not too heavy, not too light. The adjustable handlebar is a crucial feature for parents on the short or tall side. The car seat has a good safety rating, so you can trust it will do its job when necessary. You really can't go wrong with this pick.
If you need a jogging stroller for your training workouts or just because you like to run to the store, we recommend the Baby Trend Expedition Jogger. Those bicycle wheels will give your baby a downright luxurious, smooth ride. The extra-large canopy means you can go running in the bright sun without worrying about exposing your baby to the sun's harmful rays. The Baby Trend Expedition is at an excellent price point for a jogging stroller.
Our choice for an affordable travel system that gets the job done is the Evenflo Vive with Embrace Travel System. This is a basic model with a bare minimum of features, but the safety ratings are excellent. This means you can get what you need to keep your child safe without forking over a ton of dough. It comes with plenty of storage and a good canopy for shielding your child from the sun. With this travel system, you won't have to worry that you compromised your child's health and safety while on a tight budget.