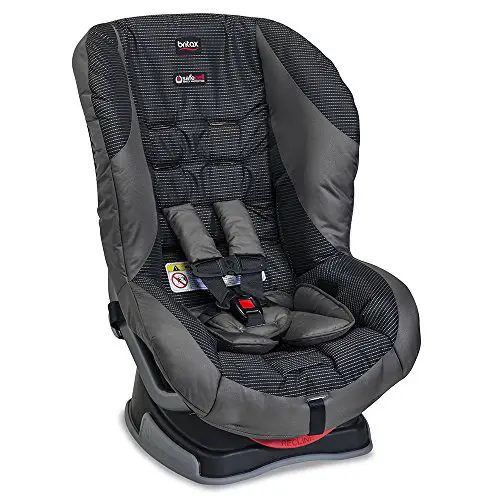 Britax Boulevard: Car Seat Review and Essential Information
Whether you're the parent of a new baby, a toddler, or a school-age child, choosing a car seat is critically important to your child's safety. Even with all the advances of technology available, car crashes are still the leading cause of death for children between the ages of 1 to 13 years old, according to the National Highway Transportation Safety Administration (NHTSA). The best way to protect your family from such a tragedy is to choose a high-quality safety seat and use it from the day your baby comes home from the hospital until he or she reaches the height and weight requirements to move to a regular seatbelt.
The NHTSA offers detailed guidance on the topic of child safety seats. From birth to 12 months of age, infants should ride in a rear-facing seat. Somewhere between age 1 and 2 years, babies will be ready for a forward-facing seat. The maximum weight for seats in this category will vary; some can accommodate your child until he or she is 7 or 8 years old. At that time, your little one is ready for a backseat booster chair.
The NHTSA also reminds parents to consider the available space in the vehicle or vehicles where you will utilize the seat. Measure carefully because some car seats won't fit well, especially if the car is smaller. If you have multiple children who need car seats or booster seats, you want to be sure you have room for everyone.
The child seat will attach to the seat of the car using either the regular seatbelt or a set of lower anchors but not both. If you have an older car, it may not have the standard anchors, so you'll need to get a car seat that attaches with the seatbelt. Whichever method you use to secure your child's safety seat, check the owner's manual of your car to understand how to lock it in place.
When you're shopping, you'll find three main types of car seats available. The first is a rear-facing-only seat. These are only for infants, and most children outgrow them after eight or nine months. When the child reaches the designated weight limit for the seat, it's time to buy a convertible or all-in-one seat whose configuration can be either rear-facing or forward-facing. The second type of seat is the convertible variety. It can be used from birth until the child reaches the maximum weight limit. At that time, the child may be ready for a booster seat, or you may need another convertible seat with a higher maximum weight limit. Finally, you can choose an all-in-one seat that adjusts to fit your baby from birth until he or she is ready for the adult seatbelt system.
Many new parents elect to purchase a convertible car seat. This is a type of safety seat that you can use both rear-facing and forward-facing. Parents don't have to buy a new seat for the transition. Historically, these seats have been cumbersome and difficult to adjust. However, advances in engineering have led to seats that can configure more easily. If you're looking for this type of seat, one of your options is the Britax Boulevard ClickTight Convertible car seat. It offers convenient features at a reasonable price. Best of all, it's easily adjustable as your child grows.
The Britax Boulevard ClickTight Convertible car seat is designed to keep your baby safe from birth until he or she is ready to move to a booster or reaches 65 pounds. Its harness adjusts to any of 14 different positions to accommodate your child's growth.
Rethreading is usually a process that requires removing the straps from the car seat and running them back through a different set of slots to accommodate a growing boy or girl. Though it only has to be done a few times over the life of the car seat, it's a hassle and a frustration for most parents. As a result, no-rethread car seats have become very popular. The Britax Boulevard is one such no-rethread type of seat.
Product Specifications
​Pricing
The Boulevard ClickTight Convertible Car Seat retails for almost three hundred dollars at this time and can be found at many of your favorite shopping destinations online and in brick-and-mortar. Albee Baby, Amazon.com, Brixy and Kohl's, in addition to Target, Walmart, buybuy BABY, and PishPoshBaby are just a few of those locations.
How It Compares
The marketplace offers several options in the same price range and with similar features to the Britax Boulevard. These three are good to consider for comparison.
| | | | | |
| --- | --- | --- | --- | --- |
| | ​Graco uses an InRight latch attachment that clicks into place. The sound lets you know it's installed correctly, giving you greater peace of mind. | ​This seat clicks into place in just one second. | ​This model meets or exceeds US standard FMVSS 213 and rates at approximately 2X Car Seat Standard in peak crash force testing. Energy-absorbing foam diverts force away from your child's body in the event of a crash. Steel reinforcements increase the frame's durability. | ​The only real weakness to the unit is that only a one-year limited manufacturer's warranty covers it. It lacks the crash replacement guarantee of some of the other models. |
| | | | | |
| --- | --- | --- | --- | --- |
| | ​The CYBEX has a standard LATCH connection and removal system. The SensorSafe 2.0 technology adds some complexity to the installation. | ​Setting up the SensorSafe 2.0 technology takes some time to configure and coordinate with your phone. The padding at the shoulders and neck is somewhat difficult to adjust. | ​The CYBEX is an award-winning model, taking home the 2018 Best of Baby prize from the Bump for the best convertible car seat. | ​This seat comes with a 2-year limited warranty against defects in materials and workmanship. |
| | | | | |
| --- | --- | --- | --- | --- |
| | ​The Diono Radian prioritizes safety and security, of course, but it's designed for easy travel as well. It folds completely flat and is approved by the FAA for use on a plane. The slender form allows you to fit three of these units across a standard seat in a midsize or larger vehicle. | ​The Diono Radian features a SuperLATCH system and a top tether for a simple and safe installation. | ​Reinforced protection against side impacts complements the full steel frame. It comes with removable inserts for use with infants. | ​While the Diono Radian only comes with a one-year warranty from the manufacturer, the company does offer a Crash Exchange program to replace your seat at no charge if you're in a qualifying accident. |
​Pros and Cons
​Conclusion
The biggest drawback is the lower maximum recommended weight because it shortens the useful life of the unit. The best feature most commonly cited by owners of this seat is the ease of installation and adjustment, literally requiring less than a minute. When you consider all of the benefits together, the Britax Boulevard ClickTight Convertible Car Seat is a sturdy, reliable way to keep your children safe when you're on the road. It's not the cheapest, but when it comes to your child's safety, price can't be the only consideration.